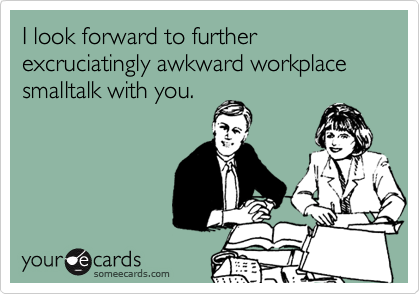 So when does normal small talk become harassment? You see almost every single self help site or book says you should speak to people at every opportunity and if you are a single man, women. Speak to them at bus stops, in the supermarket, in elevators and indeed anywhere you see them so you get used to it. Smile at all women, say hi to all women. Literary, this is what it says in a book I read today. No matter what age they are. Still seems a bit awkward to me if you are old enough to be their dad but then I have no concept for normal human behaviour at all anyway.
You see sometimes I would feel more like a dirty old man or when younger a pervert, if shy, a creepy weirdo and if so then all talking advice for shy men is completely pointless. A lot of small talk makes you look like you are only after sex, like one of those  gift of the gab men I used to know at work who seemed to go into some sort of trance like state whenever an attractive women walked in the same room and immediately started witty banter. They would blow their car horn if they passed a girl outside work and offer to give them a lift. So when does normal friendly chat become something more?  Or is it just my paranoid mind thinking the worst and most women expect men to talk to them in every circumstance even at the freezer section in Tesco. I think it would be really F**King annoying if you were a women and had men pestering you all the time but then all men are told to do this as we know women never make the first move and if we dont we will die a virgin. So men have to approach women all the time. However if we are shit at it or if we do it badly as in shy and awkwardly we are called creepy and weirdos.
The prettiest girls at work never spoke first. I used to wonder if it was simply they were used to so much male attention and men initialising conversation that it was just normal to them and they could not comprehend quiet men like me and then thought them weird. I once remember a girl asking me the time at the bus stop outside work and as I was with another guy I knew from work he seemed to think later she liked me and was trying to start conversation and was almost angry at me that I gave her a one sentence answer as if I had let a golden chance slip. Its ridiculous as all she did was ask me the time but to this other guy she may as well of asked me out.
But that was unusual. You see in all the walks and things I have done over many years and working for all those years women barely spoke first ever. Once again I think  this is just normal human behaviour and that women have to be far more cautious as men are sometimes seen as dangerous especially when out and about. However at bus stops, cash machines, shops  and certainly at work for 20 years women barely ever initiated conversation with me but often still thought me weird for being so quiet. Even working in an office at a desk quite near to me. One girl would not even ask me for help because she said I was quiet and this made her feel awkward. And there you have it in a nutshell really. Shy awkward men make women feel nervous and on edge in case they are nutters. Weird loner syndrome.