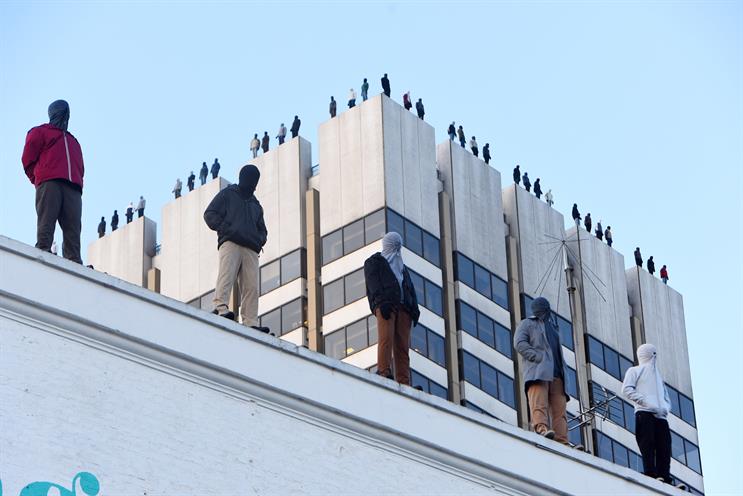 "Calm, the charity that works to prevent male suicide, has installed 84 sculptures of men with a hood pulled over their faces on top of the ITV Tower to raise awareness of the number of men who take their lives every week."
I went out for a walk yesterday and the day before. I hated both walks and felt worse. I feel waves of depression which is almost like a physical pain for hours at a time.Today is sunny  and the choice between yet another boring walk to the same places as before or doing housework is so depressing it makes me wish I was not here again. Yes, i think about suicide almost every day. Worse is when i wake up in the middle of the night after yet another stress related dream
On ITV this morning they has three daughters who lost a father to suicide. They were devastated. Yet of course I have no family to leave behind so no motivation. I do have one good friend who I would not like to upset but as I have said before I will inevitably become homeless anyway so will still leave her at some point. And being homeless means suicide immediately becomes a quite logical idea. And yet some people will demand there is loads of help for the homeless just as they lie about ………I mean claim that there is loads of help for mental health In truth the homeless in the UK is going up every year and there are more people lying on the pavement every time I go into town. Some help is not loads of help or anywhere near adequate. There are no depression or anxiety groups in my entire county on meetup.
Men should talk more. Yes, it may helps some but not everyone as some have no one and there depression is due to valid reasons rather than a chemical imbalance. I should see my GP and yet many people claim to have been treated like shit or a nuisance when they did eventually go. Will speaking to the Samaritans get me a job after all these years of unemployment? Of course not. Are my problems temporary? No, I've  had anxiety since I was a child and had a family who have never been close or helped whatsoever. Yet despite social anxiety which has been so bad I am a virgin at over 45 and depression that makes me punch the walls till my hand bleeds people still advise going to meet ups like I am bound to make the best of friends. Then they will probably get angry that I act anxious or depressed and not friendly enough!  Have you seen how angry ad irritable I get over even little things? Its hypocrisy and lies all the way when taking about mental health help.
I watched a documentary last night about Hannibal(the man with the elephants) where when the Romans destroyed his home city of Carthage and were closing in on him he committed suicide to prevent any further shame and pain. To me its much the same reasons. Of course I dont want to die but the reality of getting a suitable job with my health problems and a life with any meaning is so far away its totally impossible. People who say its never too late are simply liars.When people claim there is a way out they still demand you are full of optimism and positivity and get angry when you are not like its a choice. I dont really want to go on like this much longer. Every day is starting to become too painful. I have hung around feeling much the same for over 10 years since I was made redundant although getting steadily worse and hoping for a miracle and all I see is that I was right from the beginning and there really is no way out.